BOOK MR WHIPPY FOR YOUR EVENT
Make your next event memorable. Mr Whippy can make any event an occasion to remember. Birthdays, weddings, corporate functions, sporting events, music festivals. In fact any event where you need us to be, we'd love to see you!
Book A Van >
WANNA BE A
MR WHIPPY?
Mr Whippy has been operating in New Zealand since 1964 and has now celebrated our half century serving Kiwi's of all ages! If you're interested in running a business that Kiwi's can't get enough of click here.
Franchises For Sale >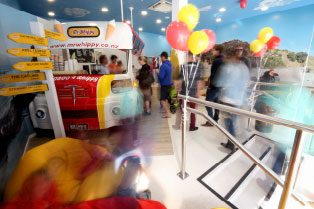 NEW 98% FAT FREE YOGHURT
Our Queenstown store and a few of our vans now serve Mr Whippy frozen yoghurt which is vegetarian friendly, gluten free and 98% fat free. Unlike most frozen yoghurts, ours has lots of yummy NZ made yoghurt in it.
Mr Whippy Stores >