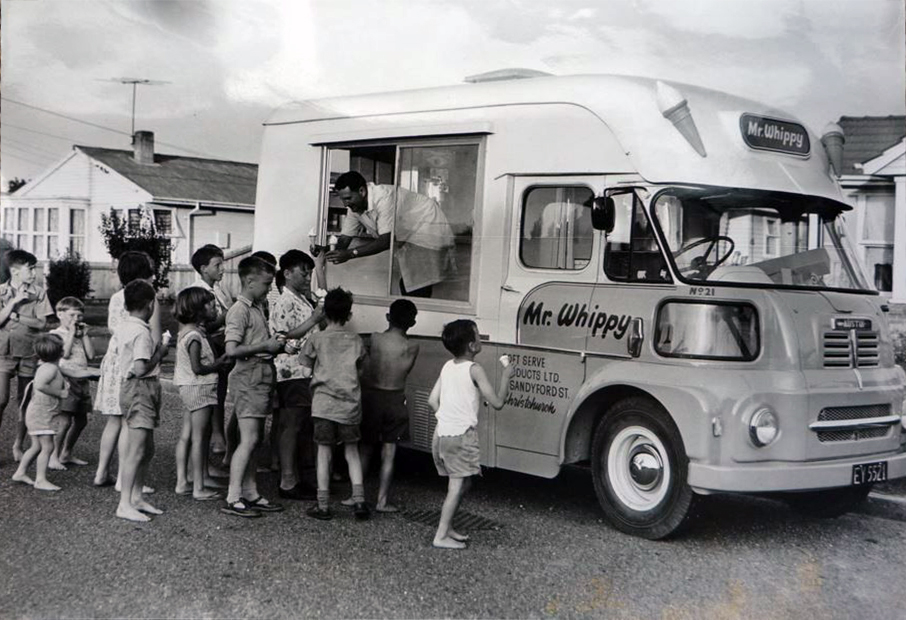 A Brief History of Mr Whippy
Mr Whippy's Beginnings in the UK:
Dominic Facchino founded Mr Whippy in the United Kingdom in 1958. A Brit of Italian descent, Facchino visited the United States in 1958 and saw the "Mr Softee" ice cream trucks in operation. His family had a background in selling ice cream, and when he was denied the UK franchise for Mr Softee, he decided to begin his own business in 1958 with a pilot of six trucks in Birmingham, UK.
Mr Whippy used pink and cream colours on its trucks and adopted the Greensleeves tune to alert people that the ice cream truck was nearby.
The Italian company Carpigiani supplied the soft serve machines, and the first Mr Whippy ice cream was supplied by Englishman Ernest Pacitto.
Thanks to successful franchising, by 1961 there were 150 Mr Whippy vans on the road in England, and another 175 in the pipeline. Mr Whippy had even commenced manufacturing its own ice cream.
And in New Zealand
Early in 1964, having had success in Australia, Dominic Facchino decided to also enter the New Zealand market on a master franchised basis.
24 pink and cream Austin FGK30 ice cream trucks were constructed in the UK and shipped from Birmingham to New Zealand in time for the summer of 1964.
New Zealanders flocked to the Mr Whippy ice cream trucks, and the fleet quickly grew to 50 company-run trucks by the end of the 1960s.
In the early 1980s, Mr Whippy became a franchise system in New Zealand with Tip Top running the business. By this stage the Isuzu Elf had become the standard Mr Whippy van, and an orange and white colour scheme had replaced the pink and white.
In the early 2000s, Tip Top sold Mr Whippy to Peter Woodhams, who held the Waikato Mr Whippy franchise at the time as well. Peter and his son Chris ran the business for around five years.
The Woodhams in turn sold Mr Whippy to the Graham family in 2006, who moved the Mr Whippy vans into today's Ford Transits.
Today a passionate and hard-working community of Mr and Mrs Whippys bring this iconic treat to Kiwis young and old across the country.